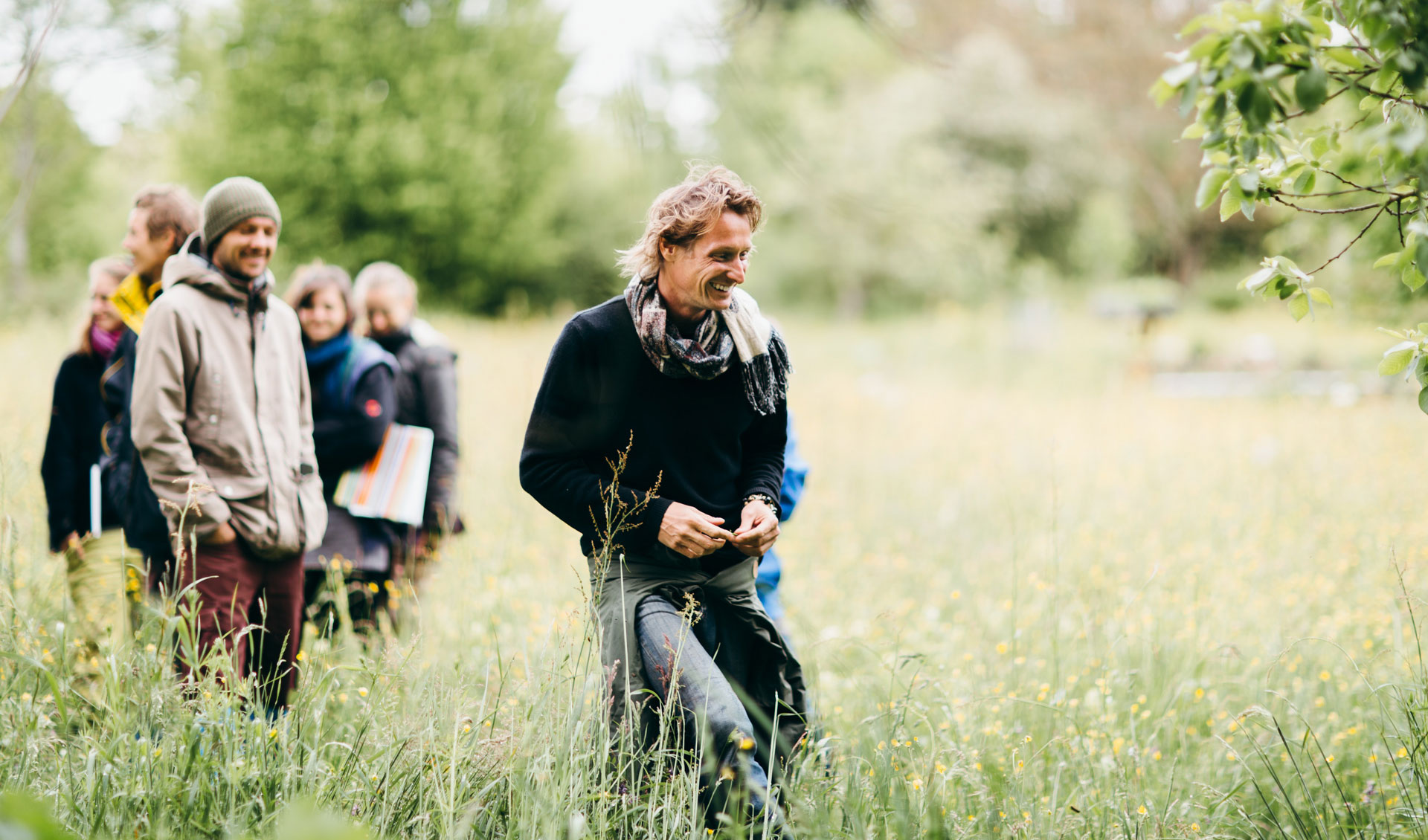 down to earth – Founder
Permaculture Expert
Marcus Pan
Marcus Pan is an internationally active permaculture designer, teacher and advisor. He completed the permaculture design course in 2002 and was awarded the Diploma of Applied Permaculture Design from Permakultur Akademie im Alpenraum – Institut für angewandte Ökopädagogik und Permakulturbildung
E.R.D.E. in 2008.
Marcus has participated in numerous permaculture projects around the world since 2002.
Since 2018 he manages the PERMACULTURE FARM AUENHOF at FELDBACH in Switzerland – Learn and Demonstration Site of the ACADEMY for PERMACULTURE DESIGN.
"My deep commitment, my immense love for nature and life, and my knowledge and all of my experiences and insights about the various connections and contexts enable me to design bountiful and nutritious permaculture gardens, landscapes, and cities. These are the most basic requirements for conceiving and building functional permaculture systems."
".. .. with strong roots in the region where I had the privilege to grow up, a still diverse and intact natural landscape with vibrant meadows, forests, clear lakes, and sweeping mountain ranges, in a small village on Grundlsee lake in the Salzkammergut region of the Austrian province of Styria – a little paradise !!
.. .. it is my pleasure to share a little about my life .. ..
Nature provided everything that we needed to lead a healthy and satisfied life in this region. The landscape offered everything required to enjoy life to the fullest. We in the village had no need to go somewhere else, or to spend a holiday in some far – away place. It was my grandparents who instilled in me a connection with nature from my youngest years with their knowledge. I felt safe and protected, surrounded by their love as I was.
They laid the foundation for my life, the basis upon which I was later able to build. My grandmother had a wonderful and diverse organic vegetable garden. It yielded fresh vegetables and herbs all summer, and there was an ample supply of vegetables throughout the winter. When I recall their cellar, I see the big potato box and the shelves filled with apples, and I can smell the vegetables stored there.
I will never forget the times in the forest when we gathered wild strawberries and blueberries or collected firewood, or the times with her in the garden. I also have very fond memories of the wonderful walks and mountain hikes with my grandfather.
I met my friends on the beach no matter the time of year. From here, he headed into the forest and mountains to explore our home and nature. We had no interest in going to the next larger town 10 kilometres away to
'hang out'. In the summer, we sat on the beach, made bonfires, and played our own music.
My experiences and adventures and life in this incomparably beautiful landscape have had a lasting impact on my life. It was not until recently that I left this protective 'cocoon' and went out into the world outside of this small village. And this makes me more and more aware every day of how lucky I was to be able to grow up so close to nature.
The mandatory school visits (that I or we rarely made anyway) were finally over when I was 17! I worked as a waiter, as a stage hand, as a mail carrier, as a house superintendent, and as an attendant at a children's ski lift;
as a landscape gardener and hiking trail maintenance worker for the town of Grundlsee, as a glazier and lumber mill worker, in home construction and renovation, and as a harvester and gardening assistant. I was self – employed as a landscaper and permaculture garden designer for many years. All of these different jobs allowed me to gain a great deal of knowledge and experience.
I heard the word permaculture for the first time in 2000. I was given the opportunity to build a barrier free permaculture system on an area of 16'000 square metres with 'physically and mentally disabled persons'.
The Austrian permaculture pioneer Sepp Holzer was responsible for the planning. My responsibilities consisted of implementing the permaculture elements in the first two years, and later the maintenance and improvement of this permaculture system. This allowed me to apply and develop my abilities. Here, I learned how permaculture systems function and how such systems are built, maintained, and improved.
I will also never forget this time in my life. And I will not soon forget the special people with whom I created this wonderful garden. I also taught them everything about permaculture. Today, there are different working groups in this small paradise garden, some of whom complete their work independently. There is a group that holds tours of the garden and explains how it works, and there is another group that harvests herbs and turns them into teas, vinegar, and oils and into herbal salt. Some are responsible for the animals, and there is of course a group that takes care of various permaculture gardening tasks. Our jointly developed organic products are sold at the farmer's market or directly from our farm. This was a time where I gained an immense range of organic gardening experience and where I learned a great deal about life!
I have been working on my own projects since 2002, in different climate zones and with different people and their goals. Today, I can look back on a broad range of Permaculture projects that I had the privilege to plan and build.
IT IS AN IMPERATIVE FOR ME TO PASS ON THIS EXPERIENCE AND KNOWLEDGE SO THAT MANY OTHER PEOPLE CAN SET OUT AND CREATE SUCH VIABLE HABITATS OF THEIR OWN –
FOR PLANTS, ANIMALS, AND PEOPLE. FOR OUR MOTHER EARTH !!"
read more
Consultant - Designer - Experts - Teacher